Harrogate Railway FC: Care home scheme to secure future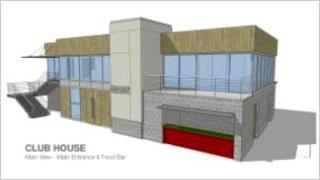 The foundations have been laid in a scheme to help a North Yorkshire football team secure its future.
A care home is being built on part of Harrogate Railway FC's site at Starbeck. In return for giving up some land, a new club house and several five-a-side pitches will also be built.
The football club's chairman, Mick Grey, has previously said the club would be "finished" without the scheme.
Developers Vida Healthcare said the new care home would create 70 jobs.
Vida, part of the Harrogate-based Rycroft Group, said it believed the £5m development could be a blueprint for other football clubs facing financial difficulties.
New income
The care home, a 71-bed specialist dementia unit, will open towards the end of 2012.
The new football club house is due to open in January 2012.
The club will also get four all-weather five-a-side pitches and a junior football pitch.
These facilities will be rented out to provide the club with a new source of income.
The club was formed in 1935 when it was started by workers at a local railway depot.
It joined the local Harrogate League and won the British Railways National Cup in 1946.
The club currently plays in Division One North of the Northern Premier League.