Council 'sickened' by Valley Gardens park arson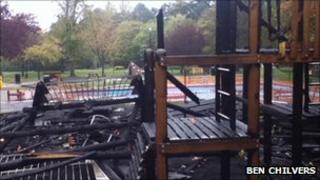 A council which spent £180,000 on a play park in Harrogate has said it is "saddened and sickened" after it was destroyed by arsonists.
The park at Valley Gardens was set alight in the early hours of Saturday. Eight teenagers were arrested by North Yorkshire Police over the incident.
The park, which featured a wooden fortress structure, was officially opened in 2009 after a £180,000 revamp.
Harrogate council said it had not yet decided what to do with the site.
A spokesman said: "Councillors and staff at Harrogate Borough Council have been saddened and sickened by the wanton destruction of the fort within the very popular children's play area in the Valley Gardens.
"The site has been released as a crime scene and the council now awaits a visit from the loss adjuster. Once they get the go-ahead, the council will act quickly to make good the ground area.
"It is too early to say what the council will do to replace the facility."
One of the arrested teenagers remains in custody, three have been released on bail and four have been released without charge.