Harrogate Mile Post pub shop plans refused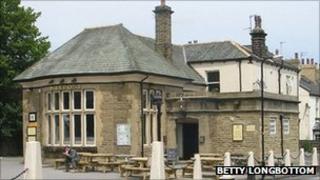 Plans to turn a failing Harrogate pub into a Sainsbury's store have been refused by councillors.
Harrogate Borough Council's planning committee refused the change of use for the Mile Post pub to the store, which the supermarket said would create 15 to 20 jobs.
Local residents had objected, saying the plan would deprive the area of its only pub and increase traffic.
The decision will now be reviewed by the district development sub-committee.
The pub, on the corner of Mount Street and Leeds Road, "has over many years struggled to be let as a viable business", the council was told.
Harrogate Civic Society previously said the plans to change the use of the pub were "disappointing".
In a statement, it said: "We do not see the locality as being well provided with pubs and bars, but there are plenty of shops.
"A public house in the locality is a rarity. As the Mile Post seems to be the only one it should be protected... as a community facility."
A report considered by members of the planning committee said: "The pub's decline in performance continues to generate an inadequate return."
The proposed store would result in a "small increase in traffic", it said.
"This is expected to be between 20 and 30 vehicles during traditional peak hour periods," it added.
"As such, it is not considered it will result in a material level of traffic impact on the local highway network."
The decision will be reviewed at a date yet to be set.