North Yorkshire Police recruits new staff despite cuts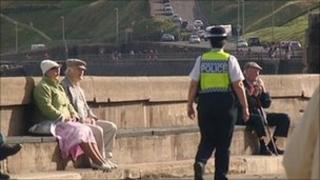 North Yorkshire Police is advertising for new officers from other forces despite a recruitment freeze.
The force said a recent review had identified a need for new officers in the eastern area of the county.
A recruitment freeze was announced in 2010 as the force revealed it had to cut its budget by £24m by 2014/5.
The 20 new posts are for officers transferring from other forces which the force said represented good value for taxpayers.
The force has announced a series of measures to cut its budget which have included cutting support posts, reducing the number of control rooms and freezing recruitment.
The police authority also approved the use of Regulation A19, which allows the Chief Constable to force officers with more than 30 years' service to retire.
The force is hoping to recruit up to 20 officers at police constable and detective constable rank to work on the east coast, principally in Scarborough and Filey.
Assistant Chief Constable Sue Cross said the force had to plan ahead and it was taking into account the number of staff retiring or leaving the force in those locations.
She added: "We have to constantly monitor our figures and felt now was the time to bring people in."
Recruiting officers with the appropriate skills and training represented good value for residents, said ACC Cross.