Malton fire death jockeys investigation continues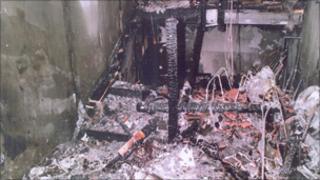 A building in which two jockeys died in an arson attack two years ago may not have complied with fire regulations, a BBC investigation has found.
Jamie Kyne, 18, and Jan Wilson, 19, died in the fire at flats near Malton, North Yorkshire, in September 2009.
Caretaker Peter Brown, 37, was convicted of manslaughter in 2010.
BBC Inside Out has discovered that North Yorkshire Fire Authority is still investigating the fire and may take legal action over safety issues.
Brown, of Brotherton, North Yorkshire, started the fire in a drunken act of revenge after being refused entry to a party, the trial at Leeds Crown Court heard last December.
He lit rubbish which had been left in the communal entrance to the Buckrose Court flats.
The fire quickly took hold as the stairwell acted like a chimney, forcing many of the occupants to jump from the building or climb down drainpipes.
Combustible materials
Miss Wilson, from Forfar in Angus, and Mr Kyne, of County Galway in the Irish Republic, were trapped in the top-floor flat and were unable to escape.
BBC Inside Out has obtained a fire investigation report into the tragedy under the Freedom of Information Act.
It reveals that "combustible materials" had been stored in the stairwell and the self-closing mechanism on the fire door to the flat in which the young jockeys died was not working properly.
North Yorkshire Fire Authority said: "Due to ongoing investigations which could result in legal proceedings, North Yorkshire Fire Authority does not consider it appropriate to comment on fire safety matters as they relate to Buckrose Court in the time leading up to the fire in which two people sadly lost their lives.
"The investigations by the fire authority are ongoing in respect of the Regulatory Reform (Fire Safety) Order 2005 as they applied to those premises."
In addition, the building was not fitted with a fire main to which fire hoses could be connected and fire engines could not get within 45m of all parts of the building, as required by law.
Before a block of flats can be occupied, the owners must obtain a "final certificate" confirming that it complies with safety legislation.
The approved inspector, a private company called JHA Innovation (JHAI) Ltd, issued the certificate, but without consulting the fire authority, which it was legally obliged to do.
JHAI said in a statement: "With respect to the Building Regulations approval, we have always accepted that there was a procedural error and that we should have consulted the fire authority.
"In terms of the property itself, we can confirm that the approved design did fully comply with the Building Regulations.
"In this instance it was a deliberate act of arson that resulted in the staircase enclosure being compromised.
"We would like to take this opportunity to express our sincere condolences to the families of those who died in the Buckrose Court fire."
Alan Foster, who represents the companies which own Buckrose Court, said: "As legal proceedings are pending against a number of people and companies, and as we are working closely with the fire authority, it would be inappropriate at this time to comment further on events that took place on 5 September 2009."
For more on this story, watch Inside Out on BBC1 in Yorkshire, on Monday at 19:30 BST.