York remembers WWII French airmen based at Elvington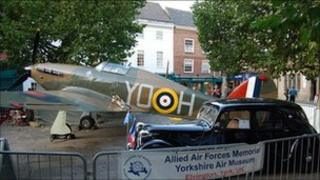 A World War II fighter plane has gone on display in York city centre.
The Hawker Hurricane exhibition is part of a series of events being held to mark the unveiling of the memorial in York Minster on 20 October.
The memorial, the first to the French Air Force in an English cathedral, commemorates the 2,500 French air crew based at RAF Elvington, near York, during World War II.
The two French squadrons, No 346 (Guyenne) and No 347 (Tunisie), arrived in Yorkshire in early 1944 and played a major part in the intensive bomber offensive against Germany.
During the 18 months they were based at Elvington almost half of them were killed.
'Quite an accolade'
RAF Elvington was the only base used by the French heavy bomber squadrons during the war and is now the home of the Yorkshire Air Museum.
Ian Reed, museum director, said: "York was unique, these were the only two French bomber command squadrons during World War II and they were based here.
"It gives us quite a unique place in French and WWII history."
The memorial in the Minster is being unveiled on the 66th anniversary of the French leaving Elvington to return to a newly-liberated France in 1945.
Mr Reed added: "A few years ago the then French President, Jacques Chirac, referred to Elvington as the spiritual home of the modern French air force. Which is quite an accolade for us."
A number of British and French dignitaries are expected at the ceremony which will be followed by a flypast and a parade of French and British veterans.
Mr Reed said: "These men were strangers in England who in some cases were having to bomb their own country. I think it will be a really special event for them and for us."