York Minster bronze plaque thefts 'disgraceful'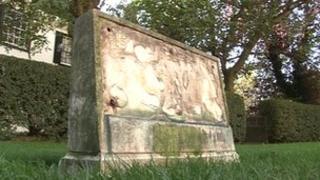 The theft of four bronze plaques worth about £7,000 from outside York Minster has been described as "disgraceful" by York Civic Trust.
The Trust said it believed the thieves had "targeted" the plaques in the Minster precinct with the aim of selling them for scrap.
Civic Trust director Peter Brown said the theft was "a tragedy".
York Minster Police said it had increased patrols in the Minster precinct since the thefts.
'Crime against city'
One of the stolen plaques, which the Civic Trust said was worth about £2,000, commemorated the crowning of the Roman Emperor Constantine in York in the early 4th Century.
Another plaque marked the life of Miles Coverdale, believed to be from York, who produced the first complete printed translation of the Bible into English in the 16th Century.
Peter Brown said the theft of the plaques had left the Trust thousands of pounds out of pocket.
"It's not just that we're going to have to spend a lot of money to replace them, but it's also a crime against the city," he said.
"I know it's not just a York problem, but we've got to sort this out. It's disgraceful."
York Minster Police said the CCTV system which usually monitored the Minster precinct was undergoing maintenance when the thieves hit, but was now fully operational once again.
York Civic Trust said it would replace the stolen plaques with ones made from aluminium, a cheaper metal, to deter thieves from stealing them for their scrap value.