Two men spending week in Harrogate shop window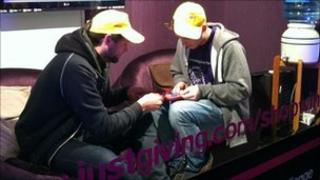 Two men have embarked on a bid to spend a week in a shop window in Harrogate in a bid to raise money for charity.
Business partners Ben Davis and Jason Odle are working, sleeping and eating in full view of passers-by to raise money for St Michael's Hospice.
They entered the empty shop in Parliament Street in the centre of Harrogate at 18:30 BST on Sunday.
An intercom has been installed, allowing passers-by to communicate with them through the glass window.
The shop, a former branch of the clothing store Emma Somerset, was empty and the building's owner was happy for the unusual fundraising challenge to take place.
The pair, who work in advertising, had already raised about £2,000 before they began what they are calling their "mannequin challenge".
Various fundraising activities will take place in front of the shop throughout the week.
Both Mr Davis and Mr Odle have had experience of family or friends needing the services of the Harrogate hospice, which includes a 10-bed inpatient unit and a day-care centre for 12 patients.