North Yorkshire potash deposits 'world class'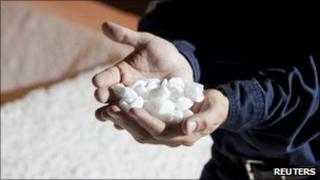 Test drilling in North Yorkshire has revealed some of the best potash deposits in the world, according to the company behind the scheme.
Sirius Minerals Ltd was given permission to test drill at a number of sites between Whitby and Scarborough in early 2011.
Potash is a potassium compound used in fertilisers and the UK's only other mine is at Boulby in North Yorkshire.
The company would need further planning consent to begin potash extraction.
'Fantastic results'
Sirius claims the York Potash Project has the potential to help supply all the potash needed in the UK for the next 50 years or more.
Chris Fraser, managing director and chief executive officer of Sirius Minerals, said: "Although preliminary, these are fantastic results for Sirius. The confirmation of all three seams in exceptional thicknesses is a validation of the world class status of the project.
"The first hole we have drilled in the York Potash Project has delivered one of the world's single thickest potash intersections ever reported."
The cores extracted in the test drilling are now undergoing detailed chemical and mineralogical tests.
These tests are expected to take about four weeks for the results to be finalised.