New grotesque to be carved for east front of York Minster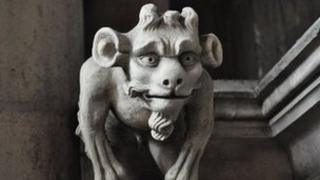 Stonemasons at York Minster are to add a new feature to the cathedral's east front.
They plan to create a modern grotesque as part of the work which is supported by the Heritage Lottery Fund (HLF).
Grotesques are carvings, usually of demons, dragons or other mythical creatures, that were often used to decorate cathedrals and churches.
The carvings were intended to protect buildings from evil spirits
Grotesques are sometimes confused with gargoyles, which look similar but contain a water spout through the mouth.
A five-year project to repair and conserve both the window and stonework of York Minster's east front, supported by a £10m Heritage Lottery Fund (HLF) grant is under way.
The project includes the complete restoration of the 15th Century great east window and improving visitor access.
The east front of York Minster is regarded as one of the finest examples of medieval craftsmanship and artistry and has been described as England's Sistine Chapel.