Philip Nitschke lectures criticised by Debbie Purdy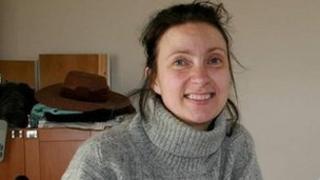 A woman who has campaigned for the law on assisted dying to be made clearer has said an Australian right-to-die campaigner's lectures are "dangerous".
Debbie Purdy from Bradford, who has multiple sclerosis, says Dr Philip Nitschke merely explains how people can kill themselves.
Dr Nitschke, dubbed "Dr Death", argues that people need to have the facts.
Ms Purdy said it was important people were aware of the alternatives to suicide.
Dr Nitschke is to hold a four-hour public meeting and seminar on 21 November in York and plans to stage other workshops in London, Edinburgh and East Sussex.
The meetings are aimed at people over 50 or who are terminally ill.
'No alternatives'
Ms Purdy said: "If someone decides their life is unbearable and they want die, they ought to be able find out how to do it but they also must be told why it might not be right for them.
"It is important that proper safeguarded discussions are had with medical professionals and people who can offer alternatives - and that isn't something that is going to happen at these lectures."
Suicide is not illegal in the UK but anyone who helps someone die is committing a criminal offence and risks prosecution.
Ms Purdy has said she would wish to kill herself if life became unbearable for her.
She won a court ruling in 2009 which said the Director of Public Prosecutions should specify under what circumstances a person might face prosecution when travelling abroad to help a loved one die.
Dr Nitschke, founder of the right-to-die organisation Exit International, campaigned successfully to have a euthanasia law passed in Australia's Northern Territory in 1996.
He helped four patients to end their lives before the law was overturned by the Australian Parliament.
Ms Purdy said if the law in the UK had been changed, then Dr Nitschke would not find an audience.
She said: "This is the result of politicians refusing to deal with the issue.
"In somewhere like Belgium or Holland he wouldn't find an audience because the information is available if people talk to a doctor - but in doing that they also have the alternatives discussed.
"Buying a book or going to a lecture about how to end your life isn't giving you that balanced view."