Harrogate International Centre jobs at risk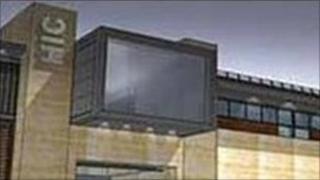 Further jobs are under threat at a conference centre in North Yorkshire because of council budget cuts.
Thirty-nine positions out of 90 at Harrogate International Centre (HIC) were axed earlier this year.
Now Harrogate council, which runs the centre as an arms' length organisation, is proposing more redundancies as well as looking to outsource services.
The authority said the centre was showing a continuing loss for 2012/13 of £1.4m.
Plans to change the centre's operating model are detailed in a report by HIC and are subject to cabinet approval on 16 November.
It states that HIC wants to outsource a number of its support services in a bid to reduce operating costs by a further £500,000 per year.
The centre, which already outsources catering, stewarding and car parking, is looking to widen the scope to include technical services, security, front of house and cleaning.
The report also emphasises the need for a further reduction in staff as income declines as a result of the economic downturn.
It states: "Even with the proposed outsourcing of various functions there is a clear need to reduce the staffing structure even further than achieved earlier this year in order to achieve a proportionate payroll overhead cost."