York Hospital 'neglected' patient William Wood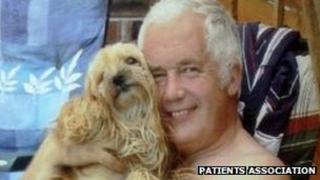 A widow has criticised a hospital for the care it gave to her husband as he suffered from chronic pneumonia.
William Wood, 52, was discharged five days after being admitted to York Hospital and died three days later on Christmas Day 2010.
Mr Wood's widow, Sheila, said he had been sent home despite still needing oxygen to help him breathe.
York Teaching Hospitals NHS Foundation Trust said "major failings" had been made in the care offered to him.
Mrs Wood said: "I have lost the man of my life, my children have lost the best father ever and it was all so unnecessary, had the right care and attention been given."
Mr Wood's case has been highlighted in a highly-critical report on hospital care produced by the Patients Association.
The father-of-three was admitted to hospital in York on 17 December 2010.
He had breathing problems and due to swine flu concerns was put in a room on his own until his illness was identified as pneumonia.
Mrs Wood said during this time her husband was neglected by hospital staff.
She said: "Bill told me that at one point during the night of 18 December he pressed the emergency button because his breathing had become so laboured he felt he was gasping for his life.
"It was a full 15 minutes before anyone responded to him. To take so long to answer when a patient is known to have breathing difficulties is atrocious."
Mr Wood's family said they were shocked when medical staff sent him home on 22 December.
He was still receiving oxygen for his breathing problems and Mrs Wood said he was still too ill to walk to the car.
The coroner's report revealed Mr Wood had chronic pneumonia.
York Hospital said it had been "profoundly concerned and saddened" by what had happened.
Dr Alastair Turnbull, medical director for York Teaching Hospital NHS Foundation Trust, said an urgent inquiry had been launched following Mr Wood's death and the results had been shared with his family.
He said there had been major failings in Mr Wood's clinical assessment at the time he was discharged and the hospital's care had fallen "significantly short" of what should have been expected.