Pub shop opens at Lamb Inn in Rainton near Ripon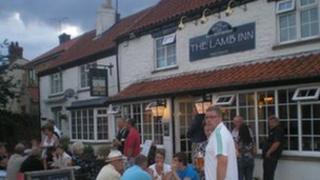 A general store has opened in a North Yorkshire pub so residents no longer have to travel seven miles to the nearest supermarket.
The owners of the Lamb Inn at Rainton, Steven and Beverley Bannister, said it had taken several years of planning to open the shop in the old bottle store.
The store sells household items along with locally-produced meat, fish and vegetables.
Mr Bannister said he had consulted landlords who had done similar things.
He said it had taken them longer to open than they had expected.
He said: "There is a lot of red tape you have to get through to get open but after several years we've finally got there. Locals have been waiting a long time for a shop in this area."