North Yorkshire Police warn over catalytic converter thefts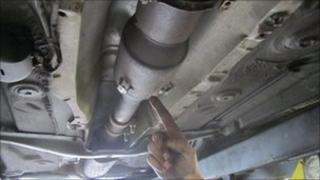 Vehicle owners in North Yorkshire are being told to get their catalytic converters marked after a series of thefts.
North Yorkshire Police said there had been 58 thefts from business and domestic vehicles since January.
Catalytic converters are targeted because of the scrap value of the metals they use to remove toxins.
The force is urging people to ensure cars are parked securely and suggests postcode marking as well.
Catalytic converters can cost up to £1,000 to replace and marking them, the police said, could enable them to be restored to their owners if recovered.
North Yorkshire Police said recent victims included a garage sales forecourt on Malton Road in York and a secure supermarket compound.
The force said thieves had also targeted private addresses when cars had been left on the road or driveway.
Officers said they would be visiting scrap metal dealers in the area to reinforce the message that anyone caught dealing in stolen items will be prosecuted.