Harrogate International Centre to 'cut' more jobs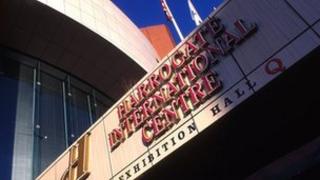 More staff at Harrogate International Centre (HIC) could face redundancy as the venue aims to cut its losses.
The conference and exhibition centre, owned by Harrogate Borough Council, faces a loss of £2m over the next two years.
It has already cut 39 out of 90 jobs since July and under plans approved by councillors a further 30 posts could go.
Outsourcing services would, according to officials, save £516,000 a year.
Conference and event bookings have been hit by the recession and by increased competition from other venues across the UK, officials for the council said.
The centre has already outsourced services such as box office bookings but is still facing a financial loss.
HIC has a team of 30 staff providing security, cleaning, front of house and technical services and the Conservative-controlled council has approved transferring these services to private companies.
Officials said they expected many of the affected staff would be able to transfer to these private operators.