Four York nurseries fail to meet child welfare standards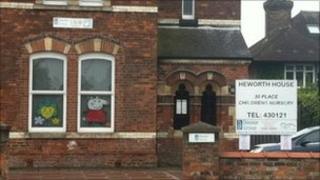 Four nurseries in York have been told they have failed to meet legal requirements on child welfare.
An investigation into the quality of care and welfare of children at two privately-owned nurseries was launched in August.
Ofsted has now issued a welfare requirement notice to all four nurseries operated by the same owner.
The notice details what improvements must be made for the nurseries to comply with the law.
North Yorkshire Police, City of York Council and Ofsted are conducting the inquiry into Little Joes in Fishergate and Heworth House in Melrosegate.
Police have said there is no suggestion of any sexual abuse.
Askham Bar and Heworth Green day nurseries are operated by the same management and have also been issued with the notice.
'Positive improvements'
A welfare requirement notice is served when Ofsted considers the nursery provider has failed to comply with the welfare standards required by law.
In a statement, the City of York Safeguarding Children Board said: "When this happens, Ofsted provides details of what action should be taken by the nursery and how long it should take. It is an offence for a provider to fail to comply with such a notice."
In September, six women aged between 18 and 28 who work at Little Joes and Heworth House were arrested.
Two have returned to work and four remain on police bail.
The statement added: "We are pleased to report that with the cooperation of the nurseries' management significant positive improvements have been, and are continuing to be, made by the nurseries."
The council has written to parents of children at the nurseries and said it would be keeping them "fully informed".