Endangered Tansy beetle to get safe haven at Askham Bryan College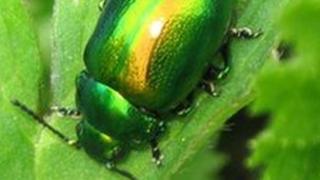 Plans to create a safe haven for a nationally endangered beetle have been launched by a North Yorkshire College.
Staff at Askham Bryan College, near York, are working on a project to create a safe home for the rare Tansy beetle.
The beetle is only found on a 26-mile (41km) stretch of the River Ouse but is at risk from summer flooding.
The college is planting tansy plants and will introduce beetles to the area in 2012.
The Tansy Beetle Action Group (TBAG) approached the college to see if a tansy "ark" could be created away from the river as a safeguard.
Dr Deirdre Rooney, of Askham Bryan College, said: "We are delighted to be involved and have created a plot on campus of tansy plants which is the beetle's sole food source. The plan is to introduce beetles to our ark next spring.
"The beetles are currently being captive-bred elsewhere but we are discussing the possibility of starting a breeding unit within our Animal Management Centre before too long."
The TBAG includes North Yorkshire County Council, the City of York Council, the Environment Agency and the University of York.
The Group has secured funding from the SITA Trust over a three year period to undertake a number of conservation measures.