York's big wheel location approved by council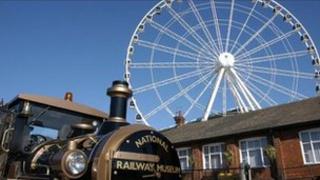 Plans for a 175ft (53m) high wheel in York have been approved by councillors.
The company which owns the wheel, Great City Attractions, has previously submitted applications for three sites in York which have been refused.
John Lowery, operations manager, said the site, close to the Royal York Hotel, would be the right one.
Mr Lowery said the wheel, which is currently in Dublin, would be relocated to York within three weeks at a cost of £120,000.
The wheel had been at the National Railway Museum in York between 2006 and 2008, attracting 1.2m visitors.
Earlier this year, the company submitted plans for the wheel to be sited on derelict land behind the city's art gallery.
The application was withdrawn after the York Museums Trust, which runs the gallery, decided not to pursue the plans.
The trust opted instead for a scheme to create a public garden in the area.