Archbishop of York John Sentamu urges council tax rise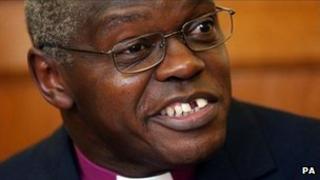 The Archbishop of York has said council tax should rise to protect services for "vulnerable" people.
Dr John Sentamu was speaking at the launch of a report by the York Fairness Commission.
The commission was established to advise the City of York Council on how to tackle social injustice and poverty.
A rise in council tax and the introduction of a tourist tax are among 30 recommendations being made to the council.
The Fairness Commission was set up by the Labour-controlled City of York Council in July under the patronage of the Archbishop.
It said its aim was to protect the most vulnerable people in York by "spreading the financial burden across society".
'Fairer society'
The council announced £21m in cuts to its budget in February and must save another £22m over the next two years.
The commission's interim report suggests that council tax in the city should rise by 3.5 to 6% in order to protect services.
It also urges the council to explore the options for introducing a York Visitor Heritage Contribution to increase revenue.
Dr John Sentamu said the council must consider unpopular decisions in order to create "a fairer society".
He added: "It will need courage to accept that for some of us life may have to become a little less comfortable in order for it to be more bearable for others."
Other recommendations include tackling the gap in educational attainment in pupils from lower-income households and exploring ways to reduce transport costs for young people and make transport concessionary fares for disabled people apply all day.
The report will be considered by the council as part of its ongoing budget discussions.