Expert boosts North Yorkshire crackdown on drug-driving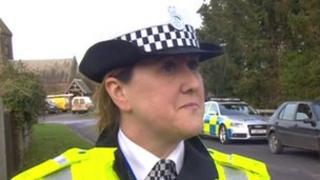 Police in North Yorkshire have deployed one of seven drug recognition experts in the country as a festive crackdown on drink and drug-driving starts.
PC Yvonne Taylor has completed a qualification in California on the impact of drugs on drivers, which is recognised at expert level by courts.
Police said her skills would make it easier to prove offences.
Last year 117 people were injured in North Yorkshire as a result of drink or drug driving.
PC Taylor said the drug recognition qualification gave her a "broader knowledge" about drugs and their effects on the body.
"It's an extra weapon. It gives us extra skills to spot the drivers and deal with them appropriately," she said.
"It's very useful being able to spot the signs at the roadside which manifest themselves when people have been taking drugs, whether they be legal or illegal.
"There are only seven of us and we are classed as experts in the field so it's of great benefit."
'Not worth risk'
The North Yorkshire force has now started its annual festive crackdown on such offences and has warned that it is better prepared than ever.
There will be extra patrols on the road to stop and check drivers and a fast-track court service has been set up to ensure people are banned from the roads before Christmas.
Acting Deputy Chief Constable Tim Madgwick said: "It is simply not worth taking the risk.
"You are more likely than ever to get caught this year and if you are, think about the impact it will have on your life.
"You will be fast tracked to court, your name will be in the paper, your boss will probably see it, you will lose your licence, how will you get to work?
"What if your job involves driving? How do you pay your mortgage? Don't ruin your life or someone else's life."
Last year the force said it breathalysed more than 4,000 drivers and arrested 81 people on suspicion of drink or drug-driving.