York's first council houses for 20 years to be built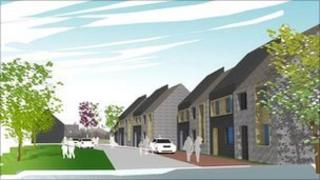 New council houses are being built in York for the first time in 20 years.
Nineteen "eco-friendly" homes will be built off Lilbourne Drive in Clifton as part of the development.
The project is being funded by a social housing grant from the government and the city council. The first homes will be finished by spring 2012.
The site will have two and three-bedroom homes built to be energy efficient, helping to reduce running costs for tenants.
The houses will have built-in solar panels and high levels of insulation.
The development will cost the council about £1.4m, to be repaid from rental of the homes over 30 years.
The city currently has 7,900 council-owned homes including sheltered housing and hostels.