York to create online database of city archives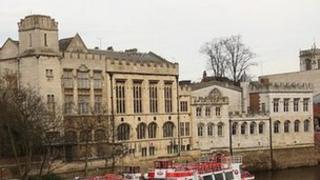 A grant of almost £40,000 has been awarded to a project to create the first complete online database of York's civic archives.
The archive includes documents dating back to to 1155 and the only catalogue in existence was compiled in 1909.
The £38,400 funding comes from the National Cataloguing Grants scheme administered by the National Archives.
The project will begin in April 2012 and is expected to take two years to complete.
Melinda Haunton, programmes manager at The National Archives, said: "The grants panel hope that this project will have a huge impact on the whole service, opening up these incredibly important records that have until now been frustrating and difficult to use."
'Community memory'
The civic archives contain the original records of York's city government and from 1476 to the present day the archive is a unique unbroken record of how the city has been run.
During the project each section of the archive will be examined and described by a project archivist who will create an online searchable catalogue.
The only catalogue of the archives available now is a handwritten one created by William Giles, deputy town clerk, in 1909.
Mr Giles had rescued many of the documents from a flooded basement of the Guildhall.
Victoria Hoyle, archivist for civic records at City of York Council, said: "It's incredible to think some documents in our collection are older than York Minster and the City Walls.
"An archive isn't just a room full of paper and parchment; it's a repository of community memory and identity, and the new catalogue database will open up this amazing resource as never before."