North Yorkshire Police warn of drink-driving danger after death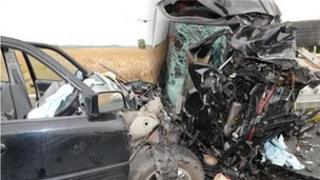 Police have warned of the dangers of drinking and driving after an inquest into the death of a motorist who was three times over the limit.
The inquest at Selby Magistrates' Court heard how Trevor McCabe died after crashing into another vehicle head on.
Mr McCabe's seven-year-old son, who was travelling in the car, suffered serious injuries but survived.
The coroner recorded a verdict of accidental death.
North Yorkshire Police said the message was simple, "don't drink and drive".
Mr McCabe was travelling in a Volkswagen Golf on the B1222 Bishopdyke Road between Sherburn-in-Elmet and Cawood in August last year when it collided with a Honda Civic.
The driver and two passengers of the Honda Civic car survived but suffered life-changing injuries, according to the police.
'Far-reaching consequences'
Speaking after the inquest, Sean Grey, from the force's roads policing group, said the incident had had a long-lasting "psychological effect" for those involved.
"It was bad enough with the loss of one life, but this incident has had greater, far-reaching consequences," he said.
"Apart from the physical trauma, we can only imagine what this child is going to remember for the rest of his life, after being in that car while his dad died next to him."
Mr Grey added: "On the day this happened Mr McCabe was irresponsible and selfish, thinking only of himself. He had no consideration for his actions as he continued to drink before he drove.
"It is a simple thing that we ask - don't drink and drive - if not for yourself, think of what effect it can and does have on others."