Kenneth Ward jailed after arms find and exposure campaign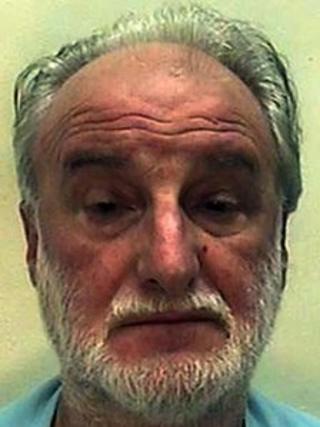 A "Jekyll and Hyde" military expert has been jailed for five years after police investigating a long-running harassment campaign discovered a cache of arms.
When police went to Kenneth Ward's home to investigate the harassment, officers found grenades, machine guns, bayonets and ammunition.
Ward, 64, of Chop Gate, North Yorkshire, had repeatedly exposed himself to a woman over seven years.
He admitted harassment, exposure and firearm crimes at Teesside Crown Court.
Richard Bennett, prosecuting, said officers had gone to the cottage after Ward's victim had complained about an air rifle being fired, but were stunned to discover what else was there.
Judge Armstrong accepted testimonials from 24 people who acknowledged Ward's military expertise and neighbourliness, adding if they had seen the video evidence of him exposing himself to his victim, "I am quite sure they would not have written the references they did".
The judge branded the defendant a "Jekyll and Hyde character", and said while Ward was highly regarded by some, his behaviour towards his victim was "appalling".
After his arrest, Ward admitted harassing the woman by walking naked on to her property and committing a sex act while he watched her through binoculars.
In court he pleaded guilty to 11 counts of exposure.
For seven years he committed sex acts so she would see him, in a campaign to drive her from her home.
He would climb ladders with his trousers and underwear down and expose himself to her over her garden wall, the court was told.
His victim was present to see the sentencing and is considering legal action against North Yorkshire Police which, it was said it court, failed to take her complaints seriously for years.
Ward was given a restraining order to keep him away from his victim and a Sexual Offences Prevention Order, the conditions of which include him being barred from unzipping or removing his trousers in public.