Nimrod MR2 show at Yorkshire Air Museum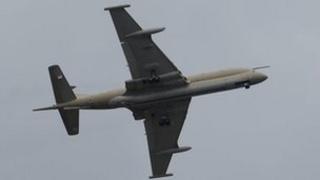 A rare Nimrod aircraft has been on display in front of crowds at The Yorkshire Air Museum.
The former RAF craft performed a full engine run and taxi along the Elvington airfield.
The Yorkshire Air Museum is the only museum in the world with a "live" Nimrod in its collection.
The Nimrod was developed from the world's first jet airliner, the Comet, and played a major role in the defence of the UK for more than 30 years.