World Snooker: 'No decision' over York return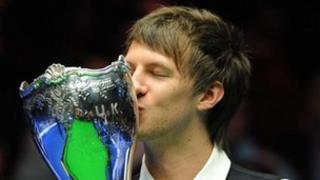 No decision has been made over whether the UK Snooker Championship will return to York next year, the sport's governing body has said.
The 2011 tournament, between 3 and 11 December, was held at the newly-refurbished Barbican Centre.
World Snooker opted to return to York after a five year break.
The organisation said the event achieved record ticket sales and a decision over the 2012 venue would be made over the next few months.
Ivan Hershowitz, press officer with World Snooker, said: "We ended up selling 8,000 tickets for this tournament. Overall it has been 10 out of 10, very successful.
"We were delighted when we were able to do a deal to come back to York."
Mr Hershowitz added that they would be analysing how the event had gone over the next few weeks and months.
He said: "Based on how things have gone this year it does bode well for the future of this event in York."
The UK Championships were held in York between 2001 and 2006, but the closure of the Barbican Centre saw it move to Telford, Shropshire.
World Snooker opted to return to the city when the Barbican reopened in early 2011.