Harrogate loses electricity after substation fire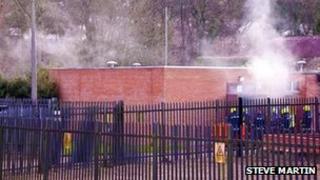 More than 19,000 homes and businesses were left without power after a fire at a substation in Harrogate.
Large parts of the North Yorkshire town lost electricity after the fire in Stonebeck Avenue, on the Jennyfields Estate, at about 13:30 GMT on Saturday.
The power cut forced businesses in the town centre to close early on what was expected to be one of the busiest shopping days of the year.
Power was restored fully by 19:30 GMT. Northern Powergrid has apologised.
Large numbers of people complained about the problem on Twitter, with some saying shops had been plunged into darkness as they tried to do their Christmas shopping.
Security issue
Georgio Gerakio was shopping for a present for his wife in Boots, which he said was "absolutely packed", when the power went off.
He told the BBC: "It was eerie, everybody went quiet.
"After five minutes nobody knows what to do, they are all standing there and a manager stood up and says 'please everybody leave your things that you are holding where you are and walk out'.
"I thought it was the most bizarre thing."
Christopher Stoner, managing director of jewellers Stoners of Harrogate, said: "It should have been the most important day of the year by far.
"We got several small power cuts from, about 1.30pm onwards that lasted for a minute or two and then about 2.30pm we lost all power, lighting and heating, everything."
Mr Stoner said staff had to close the shop and put the jewellery in the safe, as the power cut had disabled the store's electronic security systems.
North Yorkshire Fire and Rescue Service dealt with the substation fire, several fire alarms falsely triggered by the power cut and were also called to free people from three lifts.
David Gill, head of customer service for Northern Powergrid, said failures of this size were very rare and he apologised to those who were affected.
He added: "I'd like to reassure them that our engineers both in the control room and on site worked diligently... to get the supplies restored."