Walkers remember foot-and-mouth crisis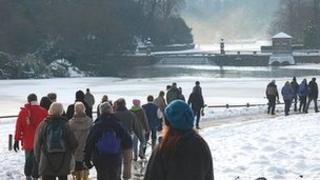 Hundreds of walkers joined a "pilgrimage" in North Yorkshire marking a decade since the end of the 2001 foot-and-mouth crisis.
The Boxing Day walk marked the 10th anniversary of the reopening of the four-mile footpath between Ripon Cathedral and Fountains Abbey.
The path was closed for almost a year in 2001 during the UK's worst foot-and-mouth outbreak in three decades.
A service of prayers and carols was held at the end of the walk.
'Sense of thanksgiving'
Nearly 6.5m sheep, cattle and pigs were slaughtered in Britain between February 2001 and January 2002 in order to bring the outbreak of foot-and-mouth disease under control.
Footpaths across the country were closed to walkers during the crisis to help stop the spread of the disease, including the route between Ripon Cathedral and Fountains Abbey.
As the foot-and-mouth outbreak came to an end, about 2,000 walkers came together on 26 December 2001 to celebrate the reopening of the path between the two sites.
The 2011 Boxing Day pilgrimage was led, as it was a decade ago, by the Bishop of Ripon and Leeds, the Right Reverend John Packer.
Bishop Packer said the 2001 walk would be long-remembered by those who took part.
"Ten years ago there was a real sense of celebration among the nearly 2,000 walkers that the countryside was open once again, after months when it felt that things might never return to normal," he said.
"I remember a great sense of thanksgiving as we prayed within the walls of Fountains Abbey for the farming community which had suffered so much loss."
The pilgrimage, which began at the West Front of Ripon Cathedral, followed in the footsteps of a group of 12th century Cistercian monks who set off from there on 26 December 1132 to found Fountains Abbey.