Cash for new woodlands in the Yorkshire Dales National Park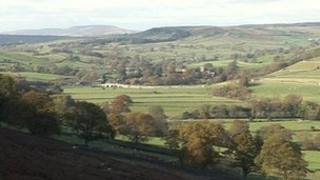 New woodlands are to be created in the Yorkshire Dales at a cost of £120,000.
The money will be used to double the amount of broadleaf tree cover in the national park to 12,355 acres (5,000 hectares) by 2020.
The Yorkshire Dales Millennium Trust (YDMT) is now looking for sites that can be planted with native tree species.
Landowners could be awarded a grant of up to 100% of the cost of creating new woodlands.
Chris Lodge, woodland development officer at YDMT, said: "We're appealing to farmers and landowners with any possible sites for planting to come forward.
"Planting trees is a vital long-term investment in the environment."
He added that the long-term benefits of planting trees included absorbing carbon dioxide, enriching the landscape and creating habitats that support hundreds of wildlife species.
Only 2.5% of the Yorkshire Dales National Park is covered with native broadleaf trees compared with the national average of 4.8%.
Funding for the scheme comes from SITA Trust.