Thieves steal Scarborough Sixth Form College rhino sculpture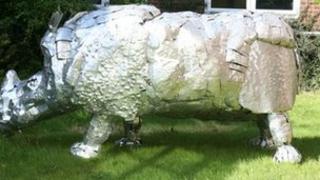 A life-size aluminium rhinoceros sculpture has been stolen from a college in North Yorkshire.
Police are searching scrap metal yards in the hope of finding the figure. The sculpture was taken at some point in recent days.
It was designed and made by a former Scarborough Sixth Form College student.
Police said it would have taken at least two people to lift the structure and a vehicle to remove it. They are appealing for information.
PC Michelle Neighbour said: "The rhino is not something you could just walk off with by yourself, it would have taken at least two or three people to lift and they would have needed a vehicle to transport it away from the college.
"I am appealing to anyone who saw any suspicious activity around the college in the past week to contact the police or Crimestoppers with information.
"I would also appeal to any scrap dealers or anyone who regularly use scrap yards to get in touch if they remember seeing the rhino being weighed in."