Firm offers free parking in Harrogate on Christmas Eve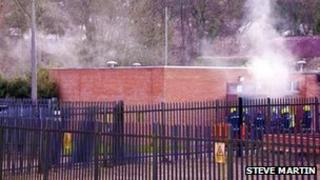 An electricity company is to pay for 1,200 parking spaces in Harrogate on Christmas Eve after a power cut earlier this week.
Northern Powergrid said it would be funding the spaces as a "gesture of goodwill" in the Victoria and Jubilee multi-storey car parks on 24 December.
A fire at one of the main substations cut power to more than 19,000 customers in the town last Saturday.
Power was not fully restored to the town centre for more than five hours.
Many businesses were forced to close early after they lost power on 17 December at about 13:30 GMT. The town centre was not fully reconnected until 18:40 GMT.
The leader of the Conservative-run Harrogate Borough Council Councillor Don Mackenzie said he welcomed the free parking gesture from the company.
He said: "The power cut came at great cost to businesses and at great inconvenience to shoppers.
"I believe that this gesture goes some way to putting things right and I commend them for it."
John Barnett, director of customer operations at Northern Powergrid, said: "We wanted to provide a gesture of goodwill and we are delighted to be able to take up the council's suggestion regarding providing free parking arrangements in the town on Christmas Eve."