Harrogate Theatre shows rare images of Hollywood stars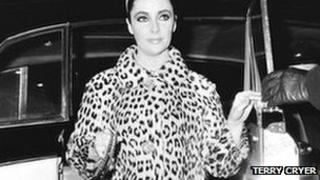 Rarely-seen pictures of Hollywood stars and music legends taken by a leading Yorkshire photographer have gone on display at Harrogate Theatre.
The images taken by Leeds-born Terry Cryer are being shown in the theatre's bars until next March.
The Circle Bar features his shots of Elizabeth Taylor, Richard Burton, Steve McQueen and Peter Sellers.
Most were taken in the early 1960s during Cryer's time as in-house photographer at the London Palladium.
A portrait of Peter O'Toole is on public display for the first time.
The Stalls Bar features a jazz and blues theme focusing on selected images from the mid to late 1950s.
Highlights include images of Sammy Davis Jnr and Muddy Waters plus the unveiling of a photograph with a special link to Harrogate.
Cryer's portrait of Chris Barber and Sister Rosetta Tharpe on stage at Harrogate's Royal Hall in 1958 is on public display for the first time.
This image brings together two of the most influential figures in the jazz and blues movement.