Two men killed after getting out of cars on A1 and A19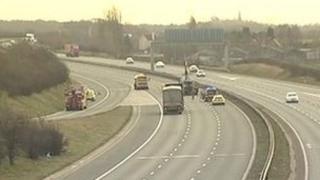 Two men have been killed after getting out of cars on main roads in North Yorkshire.
A male passenger was killed on Tuesday after getting out of a car on the A19 on the outskirts of Northallerton.
A second man was killed on Wednesday when he stopped his car on the southbound carriageway of the A1 near Allerton Park.
No-one else was injured in either collision, North Yorkshire Police said.
A police spokeswoman said the first incident happened at about 21:10 GMT on Tuesday.
A silver Skoda had stopped on the dual carriageway after breaking down with a suspected punctured tyre.
Lorry driver arrested
A 24-year-old man, a Romanian national, suffered fatal injuries when the car was hit by a white Fiesta van.
He had been standing by the boot of the Skoda when the collision occurred.
The driver of the Fiesta van was arrested in connection with the crash, police said.
The A19 remained closed until 05:00 GMT on Wednesday.
The second incident took place on the A1 at 08:30 GMT on Wednesday.
A silver car stopped on the southbound carriageway and the driver, a man in his 50s, was standing beside it when it was hit by a lorry.
The A1 southbound was closed for more than six hours following the crash.
A North Yorkshire Police spokeswoman said: "Officers need to establish why the man had stopped and got out of his car."
She said the lorry driver was arrested following the collision.