River Ure floods at Boroughbridge caravan park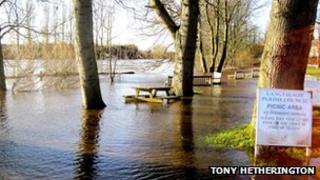 The River Ure has flooded at Roecliffe Caravan Park in Boroughbridge and some cars have been moved to higher ground.
The Environment Agency said the river level had peaked and should drop during the night.
River levels across Yorkshire are expected to drop overnight but three flood warnings are in place on the River Ouse.
Properties in York are at risk in Kings Staith, Queens Staith, South Esplanade and New Walk, the agency said.
Also on the River Ouse, warnings were also in place at St George's Field and Naburn Lock.
High water levels had been reported at Cattal and Hunsingore on the River Nidd although levels were falling slowly.
Firefighters have also dealt with flooding at homes in the Skipton area.