Work starts on £6.5m youth centre The Street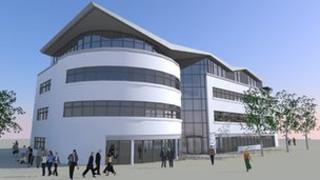 Work has started on a £6.5m youth and community centre which has been designed by young people in North Yorkshire.
About 10 people aged between 12 and 20 have worked with developers on the planning and design of The Street.
The 3,000 sq m four-storey building will include a recording and dance studios, climbing wall, cafe, social spaces, garden and allotment.
It is being built next to a coach park on Scarborough's William Street.
People from the town got involved after the local charity, Seachange, which is managing the project, held a public consultation in June 2008.
'Dedication'
Sarah Fenwick, the enterprise manager at Seachange, said: "We've involved hundreds of local young people and we've got a core group of young people that have been working really closely on the project for a number of years now and they've really grown up with it.
"They've done loads of research, they've worked on the design and the business plan and I 'd really credit them on their perseverance because there's been times when we've not known if it would come to fruition."
"They've really been the driving force behind the project and have shown amazing dedication and commitment," she added.
Devon Page, 17, who is an apprentice project worker at the charity, said he had been involved in the development of The Street for more than four years. He worked with architects on suggesting the building's curved shape and recently helped choose the building contractors.
He said: "It was amazing when we were there on site, it's finally becoming a reality. I can't wait for it to be opened."
The centre is expected to open at the end of November.