Sutton Bank body exhumed to identify woman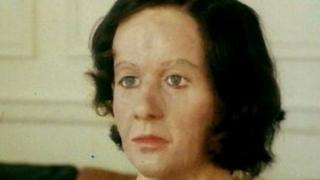 North Yorkshire Police are to exhume the body of a woman found dead in 1981.
Officers hope advances in DNA profiling can help identify the woman who was found buried in undergrowth at Sutton Bank, near Thirsk, in 1981.
An anonymous tip-off led detectives to the body, but the woman could have died up to two years previously.
The woman was later buried in an unmarked grave in Malton. A police spokesman said the case was one of the their "unsolved mysteries".
Despite an 18-month investigation launched at the time of the discovery, and appeals for information since then, the identity of the woman remains unknown.
A wax impression of a woman's head was created using the body's skull to help identify the victim, but no information was received.
Det Supt Lewis Raw, who is leading the cold case review, said: "In the decades that have elapsed since the discovery of the body, there have been significant developments in the technology available to the police.
"It is these developments which police hope will eventually lead to the identification of the woman and why a decision has been made to carry out an exhumation."