Irton tree row: county council ordered to pay legal costs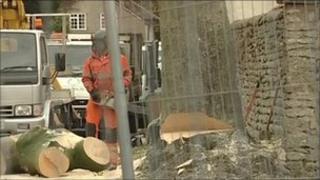 North Yorkshire County Council will have to pay legal costs of £100,000 in the row over the felling of a century-old beech tree in Irton.
The county council had argued Scarborough Borough Council made the case more expensive by placing a preservation order on the tree.
Last year protesters tried to stop the council felling the tree which was damaging an underground drain.
A county court judge rejected the county council's application.
The county council first applied to have the beech tree felled in 2007.
Local resident Gerald Hazelwood had claimed it was damaging his drains and a boundary wall.
The Conservative-controlled county council, as the authority responsible for the highway at Irton, was advised to fell it.
Following local protests, Scarborough Borough Council placed the preservation order on the tree in 2007.
The situation was not resolved until a judge ordered the county council to remove the tree in August this year.
Protesters then climbed the tree and the authority was forced to seek a High Court injunction to remove them.
North Yorkshire County Council said it would pay £100,000 legal costs, with the remaining balance covered by the authority's insurers.
County councillor Gareth Dadd, executive member for highways, said: "It is regrettable that the matter had to come before the courts again, but it was not possible to reach a negotiated settlement with Scarborough Borough Council over the costs."