York woman joins implant protests at private clinics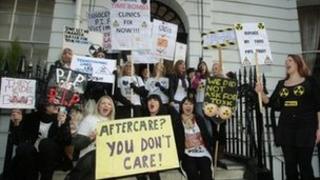 A York woman has travelled to London to protest outside private clinics that are refusing to remove potentially faulty breast implants.
Jacqueline Anderson, 41, joined other women who have PIP implants and say they cannot afford to get them replaced.
About 60 women called on the clinics to replace PIP implants free of charge
Some clinics blame poor regulation for the use of the substandard implants and say they cannot afford to remove them.
Speaking before the protest, Jacqueline Anderson said she had become involved in the protest because she found the situation "really scary".
"I'm trying to keep calm. I'm trying not to panic, she said.
"That's why I've thrown myself into doing this, to help other women. To keep my mind occupied. Because, you would drive yourself mad.
"You do sit there thinking: 'Oh my God what has it done.' You're reading all this. Every day there are new stories coming out."
The UK government has said that it does "not think it is necessary to recommend the routine removal of these implants."
Around 40,000 women in the UK have been fitted with PIP implants, which contained industrial rather than medical grade silicone.
Ms Anderson said she thought it was unfair the NHS was expected to remove the implants and said the private cosmetic clinics that fitted them should take responsibility.
She said: "They [private clinics] made a big enough profit out of the operations in the first place.
"Surely, they should have some liability insurance in place for something like this. If they haven't then that is a great failure on their part."