Harrogate Theatre Trust agrees to run Royal Hall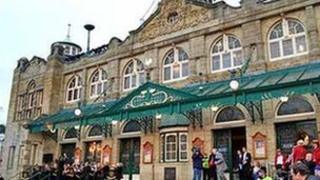 The future of Harrogate's Royal Hall, which costs taxpayers almost £1,000 a day to run, may have been secured.
The grade II listed building lost £360,000 in 2010 and is projected to lose almost £250,000 in 2011/12.
The council has been looking for solutions to mitigate the burden on taxpayers and approached Harrogate Theatre.
The theatre trust board has now agreed to take it on subject to council approval and a cash grant.
Jim Clark, chairman of Harrogate Theatre, said: "I feel this is an extraordinary and unique opportunity to bring together our two heritage buildings that will create strategic purpose and sustainability for many years to come."
The council is offering the theatre a grant of £105,000 to take over running and promoting events at the Royal Hall.
Don Mackenzie, leader of Conservative-controlled Harrogate Borough Council, said: "This marks an important new milestone in the partnership between the council and the theatre.
"For its part, the theatre will provide a superb programme of at least 60 artistic and cultural events over the course of the first year of this agreement."
Final details of the proposals will go to the council's cabinet on 1 February and full council on 8 February when a final decision will be made.
The theatre is expected to take over at the Royal Hall, which was reopened by the Prince of Wales after an £11m refurbishment in 2008, in April.