Public inquiry into Yorkshire Dales housing plans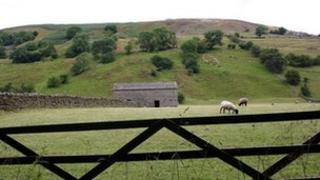 Future planning regulations for a housing development in the Yorkshire Dales National Park are being examined at a public inquiry.
The inquiry, in Bainbridge, will look at the need for affordable housing.
Officials at the park said the preferred method of providing more housing was to develop sites within towns and villages.
But one councillor said the scheme excluded the development of any area with fewer than 20 existing properties.
In a statement on the park's website, officials said: "Over the last three years we have been gathering evidence and investigating options for a review of planning policy for housing in the national park.
"The objective is to widen the range of more affordable housing for the benefit of communities living and working in the park.
"The preferred strategy for doing this is to release small sites for affordable local housing in towns and villages with services."
'Supply of barns'
Independent councillor John Blackie, who represents Hawes and High Abbotside Ward on Richmondshire District Council , said: "There's a ready supply of barns within the smaller villages that are just ripe for conversion."
He said many barns had "absolutely no further use for farming nowadays and would provide a source of affordable houses for local people".
The public hearings of the draft plans are expected to last two days.
The Housing Development Plan is the authority's review of local housing policy over the next 15 years.
If adopted, it would form part of the development plan against which the authority will determine planning applications for housing.