Richmond primary school children left unsupervised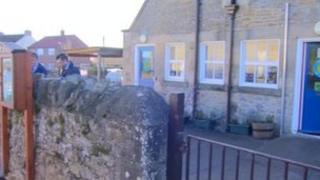 A group of primary school children in North Yorkshire were left alone for more than an hour when a teacher failed to arrive for work, it has emerged.
Eight children, aged four, five and six, were left unsupervised at Eppleby Forcett school near Richmond.
The county council is investigating the incident, which happened on Friday.
Head teacher Stephen Kirby apologised to parents and said: "The staff of course were very upset and devastated when we discovered this."
Mr Kirby said steps would be taken to "make sure that nothing like this could ever happen again".
In a statement, the council said: "We are very concerned that an incident of this kind should have happened.
'Absolutely secure'
"We are taking urgent steps to ensure the school is safe and that there is no danger of a recurrence.
"The fact that no child came to any harm does not detract from the serious nature of the episode, and we will be undertaking a thorough review of the school."
A meeting between teachers, governors and Julia Evans, an education officer from the county council, has taken place to discuss the matter.
Mrs Evans said: "A review will help us to look at the procedures in the school to make sire that they're absolutely secure and to put into place any actions that are needed from there.
"Our assurance to the parents is that we will investigate thoroughly with the governing body and we're all taking this very seriously."