Residents fight Easingwold supermarket plan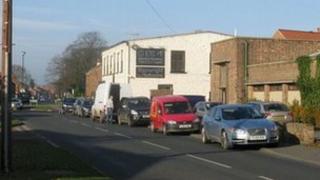 Residents fighting plans for a new supermarket in Easingwold claim it would dominate retail trade.
Retail Development Partnership has applied to build a 20,000 sq ft (1,858 sq m) store in the market town, north of York.
The company insist it would provide more choice but has not named the store. Opponents say it would adversely affect the character of the town.
Campaigners are to hold a public meeting about the plans later.
'Traffic congestion'
Objectors say the store is too large and would compete directly with the town's smaller, independent shops and existing supermarkets.
They are also concerned about increased traffic congestion in the area.
Retail Development Partnership said the plan, for Stillington Road, would make Easingwold more self-sufficient in retail terms.
It also said it would improve the appearance of the town because the store would replace a vacant industrial building the company described as "visually poor".
The company has declined to say which supermarket chain would operate the proposed site.
Hambleton District Council has not yet set a date for the planning application, which has attracted more than 200 comments, to be considered.
A public meeting between objectors and council planners is to take place on Monday evening.