DNA tests start on body exhumed from Malton cemetery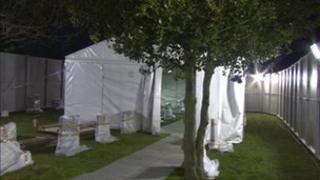 A pathologist has begun work extracting DNA from the body of an unidentified woman whose remains were exhumed from a North Yorkshire cemetery.
Police said a cold case review might be helped by the recovery of DNA material from the body which was buried at Malton Cemetery.
A Home Office pathologist and crime scene investigators were among those involved in the exhumation.
The body was found in woodland at Sutton Bank near Thirsk in 1981.
Results from the DNA tests are expected within four weeks, police said.
An anonymous tip-off led officers to the body by a road at Sutton Bank, near Thirsk, in 1981.
'Complex investigation'
It is thought the woman may have died up to two years before her body was found.
Det Supt Lewis Raw said a review of information the force held, and being contacted by two families who wanted to know if the woman was their relative, had prompted the exhumation.
He said: "It is a complex investigation and the key to this is the identification of the woman.
"We are investigating whether there is a familial link with those who believe they have lost a family member."
The force said it hoped to extract DNA from the teeth and femur of the body before reinterring it at Malton Cemetery on Wednesday.
As the exhumation began, a graveside blessing was carried out.
In a statement North Yorkshire Police said the exhumation was being carried out as the woman's family "deserve answers".
Malton Cemetery will be closed to the public throughout the operation. It is expected to reopen on Wednesday afternoon, police said.