York nurseries: No further action against four workers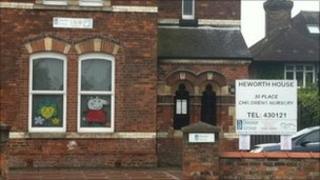 No further action is to be taken against four women arrested during an inquiry into two nurseries in York.
The women were held after concerns were raised about the quality of care and the welfare of the children at Heworth House and Little Joe's day nurseries.
After reviewing evidence, the Crown Prosecution Service has said no further action should be taken against them.
The women remain suspended from work while Ofsted and the local authority continue a separate investigation.
Six women were originally arrested and later released on bail. Two of the women were released from their bail in October.
A North Yorkshire Police spokesman said: "The agencies involved have a duty to investigate when any concerns are raised for the welfare of children.
"A file was prepared for the Crown Prosecution Service (CPS), who, after considering the evidence, advised no further action should be taken.
"City of York Safeguarding Children Board (CYSCB), City of York Council, North Yorkshire Police and Ofsted would like to thank the parents of the children and the staff at both nurseries for their patience and understanding during what was a very sensitive investigation. They have been informed of the CPS's decision.
"Although criminal proceedings have now been completed Ofsted, City of York Council Early Years and Childcare Service and the CYSCB are continuing to investigate the allegations and, as such, the four women remain suspended from their duties."