Fake handgun in York restaurant sparks police alert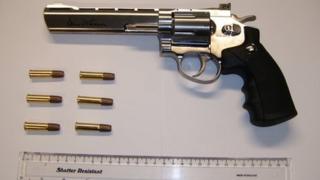 Three people were arrested after an imitation handgun seen on a restaurant table sparked a police operation.
A member of the public called police after seeing two men sitting with a silver handgun in the window of a restaurant in York.
North Yorkshire Police firearms officers followed the men as they got into a car with another man and later arrested the three at gunpoint.
The gun was later found to be an air weapon designed to look like a handgun.
An 18-year-old man was cautioned for possessing an air weapon in a public place and a 17-year-old was given a youth reprimand for the same offence.
'Real danger'
A 31-year-old man was released without further action.
Police urged people not to carry imitation firearms in public after Monday's incident.
Insp Allan Wescott said: "Although there was no real danger to the public in this instance, it is very easy for things to turn out much differently because often these imitation weapons look almost identical to the real thing.
"If a firearms officer feels there is any threat to themselves or a member of the public then decisive action must be taken to alleviate that threat. This means that if you are carrying a weapon, real or not, you are putting yourself in very real danger.
"The police have a duty to protect the public and if anyone is seen carrying what looks like an offensive weapon officers will act quickly and decisively."