Anger over Friarage Hospital paediatric closure plan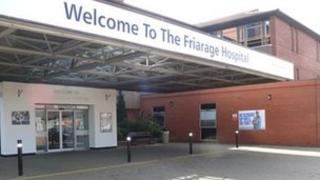 A council leader has said a recommendation to close a paediatric unit at a North Yorkshire hospital has "torpedoed the work of a lifetime".
The National Clinical Advisory Team (NCAT) report said the unit at the Friarage Hospital in Northallerton was not sustainable.
It said it should be moved to James Cook Hospital in Middlesbrough.
Richmondshire Council Leader John Blackie said protesters would "fight tooth and nail" to retain the service.
Mr Blackie said: "It appears that one visit from an anonymous team in London has torpedoed the work of a lifetime that has gone into that hospital making it the first class hospital that it is."
He added: "It has undermined the peace of mind of the residents across 75 miles of rural North Yorkshire - 50,000 people having heard the news or who will hear the news will be very unsettled."
Skills concern
Parent Cath Vickers said it would be a "big worry" for expectant mothers.
"I've got a three-year-old who I had at Friarage Hospital and if I had to travel across to Middlesbrough especially because I ended up having an emergency section I don't know whether I would have made it on time."
The Hambleton, Richmondshire and Whitby Clinical Commissioning Group (CCG) said senior doctors at the Friarage had raised concerns about the long-term sustainability of some services.
The CCG aims to take control of local NHS decision-making in 2013 and it decided to commission the report from NCAT.
The 230-bed hospital serves 122,000 people and Dr Vicky Pleydell, from the Hambleton, Richmondshire and Whitby CCG, said as a smaller hospital it faced a number of challenges.
She said: "I must stress that this is not about saving money but more about using the available money to invest in good quality and safe services that can stand up for years to come."
The report said the hospital provided a first-class service but in relation to paediatric services it expressed concerns about the hospital being able to maintain a workforce with the right skills.
A scaling-back of maternity services was also included in the recommendations.
The report will be considered by NHS North Yorkshire and York, the CCG and the South Tees Hospitals NHS Foundation Trust, which runs both the Friarage and James Cook hospitals.
A three-month public consultation about any proposed service changes will begin in March.