Unidentified woman is reburied in Malton cemetery after exhumation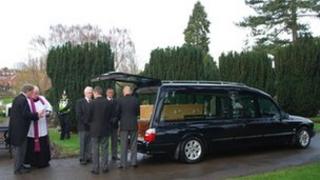 The body of an unidentified woman has been reburied in a North Yorkshire cemetery.
North Yorkshire Police exhumed the body at Malton cemetery on Monday in order to recover DNA material that might help identify her.
The body was found in woodland at Sutton Bank near Thirsk in 1981.
Police said five families had contacted them to say they could be related to the woman. Results from DNA tests are expected within four weeks.
Det Supt Lewis Raw, from North Yorkshire Police, said: "A number of families have come forward. We have had five up to Monday night and more calls since then. So clearly there are lines of investigation we have established from that.
"We've also had calls from the public who have reported incidents that happened between 1979 and 1981. We can start to look at those to see if they are relevant to our investigation."
Unmarked grave
An anonymous tip-off 31 years ago led officers to the body by a road.
Polce said they still needed to find the anonymous caller who rang Ripon police on 28 August 1981 to report the body.
It is thought the woman may have died up to two years before her body was found.
The police investigation at the time was unable to identify her and did not find a cause of death.
The body was later buried in an unmarked grave in Malton.
Det Supt Raw added that despite the age of the case it remained important to discover how she died and who she was.
He said: "There is a family somewhere who has a missing relative and they don't know what happened to her.
"As police officers we know that causes a large amount of grief to families. If we can identify her we hopefully can give them some closure."