Share plan to raise £50m for North Yorkshire potash scheme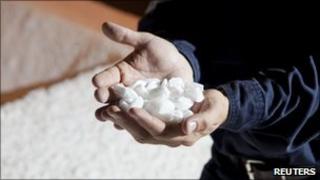 The company hoping to exploit potash deposits in North Yorkshire is hoping to accelerate drilling by raising £50m through selling shares.
Sirius Minerals said the proceeds would help fund the drilling of up to eight extra bore holes.
Last year the company said test drilling at two holes between Whitby and Scarborough had revealed some of the best potash deposits in the world.
Potash is a potassium compound mostly used in fertilisers.
The UK's only current mine is at Boulby in North Yorkshire.
Russell Scrimshaw, chairman of Sirius, said he intended to subscribe for £3.4m of the shares.
Chris Fraser, the company's chief executive, said: "Following on from the very encouraging results from our first two new holes and the evidence from the second hole that it may be possible to develop the mine with a lower cost shaft than had originally been envisaged, we are keen to further accelerate the project's development programme.
"With the backdrop of continuing uncertainty in global markets we have decided to raise all of the funding necessary to take the York Potash Project through to the completion of its definitive feasibility study.
"This will allow us to fast-track the project development without any funding constraints so that the project can be brought into production as soon as possible."