Whitby coastal defence plan out to consultation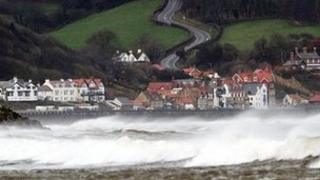 New plans to defend a three mile (4.8km) stretch of the Yorkshire coastline from erosion and flooding for the next 100 years have been revealed.
The new scheme for the coastline at Whitby prioritises the improvement of existing defences and preserving the visual appearance of the harbour.
The use of heavy rock armouring around the West and East piers has been ruled out.
A public consultation on the proposals will run until 18 April 2012.
The stretch of coastline included in the Whitby Coastal Strategy 2 runs from Sandsend in the north to Whitby's Abbey Cliff in the south and includes just over a mile of the River Esk estuary inland.
Many of the area's existing defences are expected to need rebuilding or major repairs over the next 20 to 50 years.
Reduce erosion
The proposals have been drawn up by Scarborough Borough Council, Whitby Town Council, Whitby Harbour Board, Natural England and the Environment Agency.
A previous scheme attracted criticism from residents in the town as it included plans to use heavy rock armour to protect the harbour piers.
Rock armour helps break-up wave action and reduce erosion, but residents considered it unsightly.
Conservative-controlled Scarborough Borough Council said the scheme would focus on maintaining the visual appearance of the harbour and ensuring the beaches could continue to be used for recreation and leisure.
The initial cost of the proposals is expected to be about £250,000.